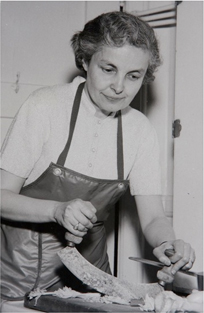 Laura Fermi, chopping celery with mezza luna. Photo: courtesy Special Collections, University of Chicago Library
Laura Fermi founded the Civic Disarmament Committee for Handgun Control. She also founded the Cleaner Air Committee of Hyde Park and Kenwood and served on the Chicago Air Pollution Control Commission. She was a member of the board of the International House of Chicago and the women's board of the University of Chicago. She was a Guggenheim fellow in 1957. [source: FNAL]
Laura Fermi Questions
My grandmother Laura Fermi asked questions which encouraged me to continue exploring my grandparent's legacy and the nuclear legacy we all share. In 1995, Rachel Fermi, my first cousin, published a book of photographs of the Manhattan Project called Picturing the Bomb. On the facing page to the book's forward, she quotes our grandmother – filling the page with large black capital letters:
"But, above all, there were the moral questions. I knew scientists had hoped that the bomb would not be possible, but there it was and it had already killed and destroyed so much. Was war or science to be blamed? Should the scientists have stopped the work once they realized that a bomb was feasible? Would there always be war in the future? To these kinds of questions there is no simple answer.  — Laura Fermi, in Reminiscences of Los Alamos, 1943-1945, edited by Lawrence Badash.
Rachel eloquently states:
"My grandmother asked these questions twenty-five years after the first atomic bombs were used. This book has grown out of the complexities underlying her questions, and from my own need to understand more fully the grandfather I never knew: a physicist whose work radically altered the world he was born into and helped create the world in which I now live." —  Picturing the Bomb: Photographs from the Secret World of the Manhattan Project by Rachel Fermi and Esther Samra, with an introduction by Richard Rhodes.